By Craig Patterson
In an effort to draw consumers and compete with the online world, Canadian shopping centre landlords are adding food halls and food markets, as well as upscale full-service restaurants to the mix. Landlord Oxford Properties is taking the lead in adding multi-tenant food markets to several of its centres, and restaurants are also being added to offer shoppers a place to refuel.
By the end of this year, three Oxford Properties-managed centres will include large-format food markets. One is already open — in the fall of 2018, the Upper Canada Mall in Newmarket saw the opening of Market & Co., which is considered to be Canada's first such food market to open in a suburban shopping centre. Two more will follow this year — this spring 'The Food District' will debut at Square One in Mississauga, and this fall in Quebec City a marketplace will open at Galeries de la Capitale in suburban Quebec City.
Construction is well underway on The Food District which is set to open in April at Square One — it will feature a range of best-in-class tenants in more than 40,000 square feet of space. The Food District will occupy part of the ground level of a two-level space vacated by Target in 2015, which also houses tenants Uniqlo (which opened in November), Indigo (opening next month) and The Rec Room, which is under construction and will open this spring.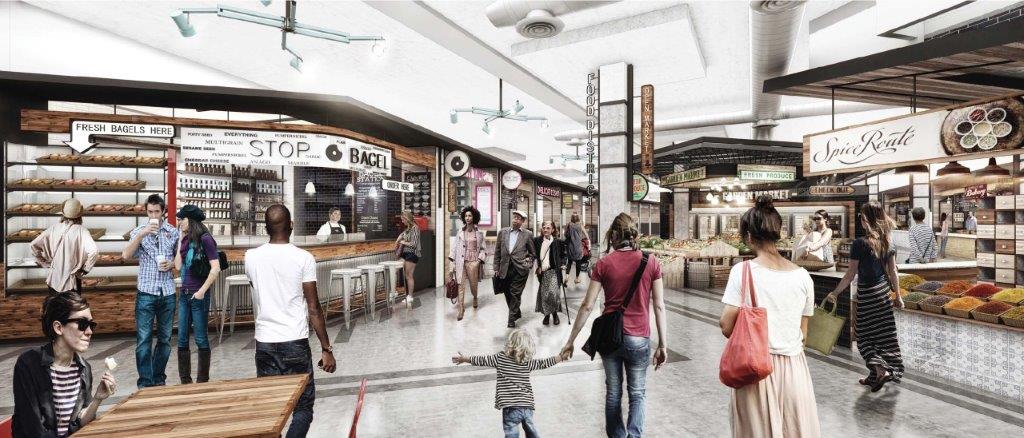 The Food District is described as offering "an authentic experience for foodie tourists and locals alike" with an offering of local, hand-made and high-quality food offerings. Renderings of The Food District show a vibrant collection of tenants in individual purpose-built spaces. A strategic layout lends to the shopper wandering from vendor-to-vendor, and some central vendor shops will encourage visitors to walk through the space.
Interestingly, renderings of The Food District present a vision that is diverse and decidedly urban — distressed wood gives the appearance of authenticity and age, and offerings are typically what one might find in an urban food market in cities such as London, Paris and New York City. Adding food halls and food markets are in essence creating an urban experience in suburban malls that didn't exist before — if one thinks about it, the new suburban food markets offer suburban dwellers some of the benefits of downtown, without the density or cost-of-living in some urban cores.
Last week we toured the construction site at Square One's Food District and it was apparent that it is very well thought out. The hybrid food market/food hall will be highly engaging and will become a draw for the region. At the heart of the Food District will be 'The District Kitchen', for example, which is described as being an interactive demonstration space that will house cooking classes, dinner parties, corporate and other special events.
"Square One has been a key part of the Mississauga community for over 45 years and the Centre has grown with the city; continuously evolving to provide an innovative destination to explore fashion, food, lifestyle and entertainment," said Square One director and general manager Greg Taylor. "We are thrilled to continue to invest in the area and the prosperity of its residents, while also creating over 250 job opportunities with this addition. The Food District will house gourmet artisans in a space where guests can enjoy and share their food experiences."
Those seeking a job at The Food District are invited to apply at a career fair taking place on Friday, March 1 (Noon-6pm) and Saturday, March 2 (10am-6pm). Full-time and part-time positions will be available.
Giannone Petricone Associates Inc. Architects designed Market & Co. as well as the new Food District at Square One, with upcoming projects including the food marketplace at Quebec City's Galeries de la Capitale as well as the highly anticipated Eataly that will be opening at Toronto's Manulife Centre in a few months. Ralph Giannone, Principal at the firm, discussed in an earlier interview his enthusiasm for the projects which he described as being a cross between restaurant and retail, as the lines blur between the two. Mr. Giannone said that he thinks food markets like the ones opening in Oxford Properties' malls will become anchor-like components to many of Canada's leading malls in the future.
Square One has provided a list of vendors that will be part of The Food District. Oxford Properties has also provided renderings of the space which we have included in this article. The list of tenants include: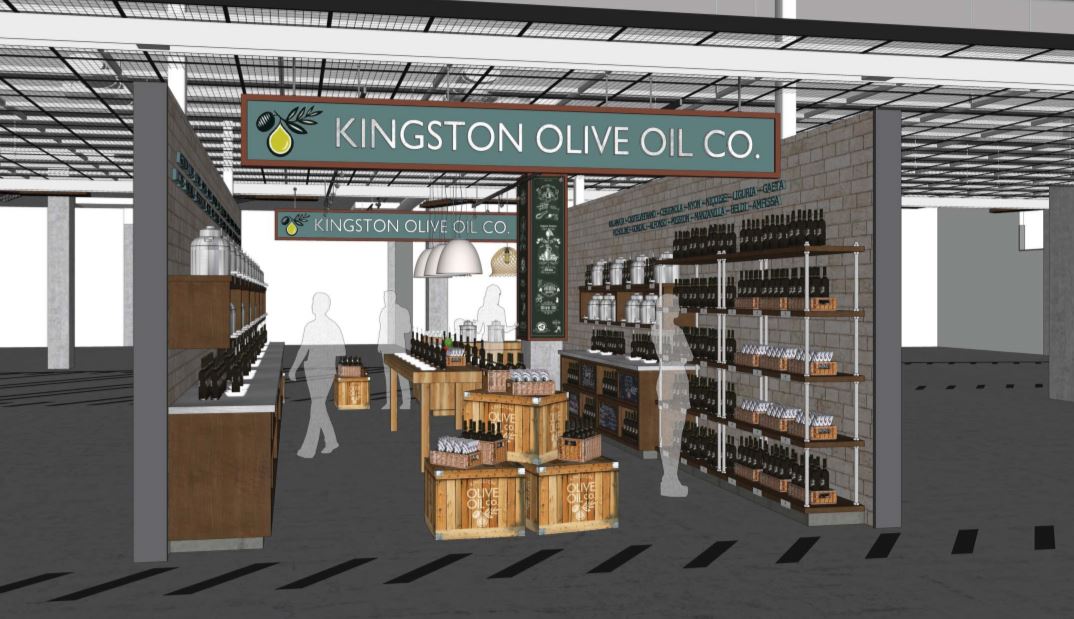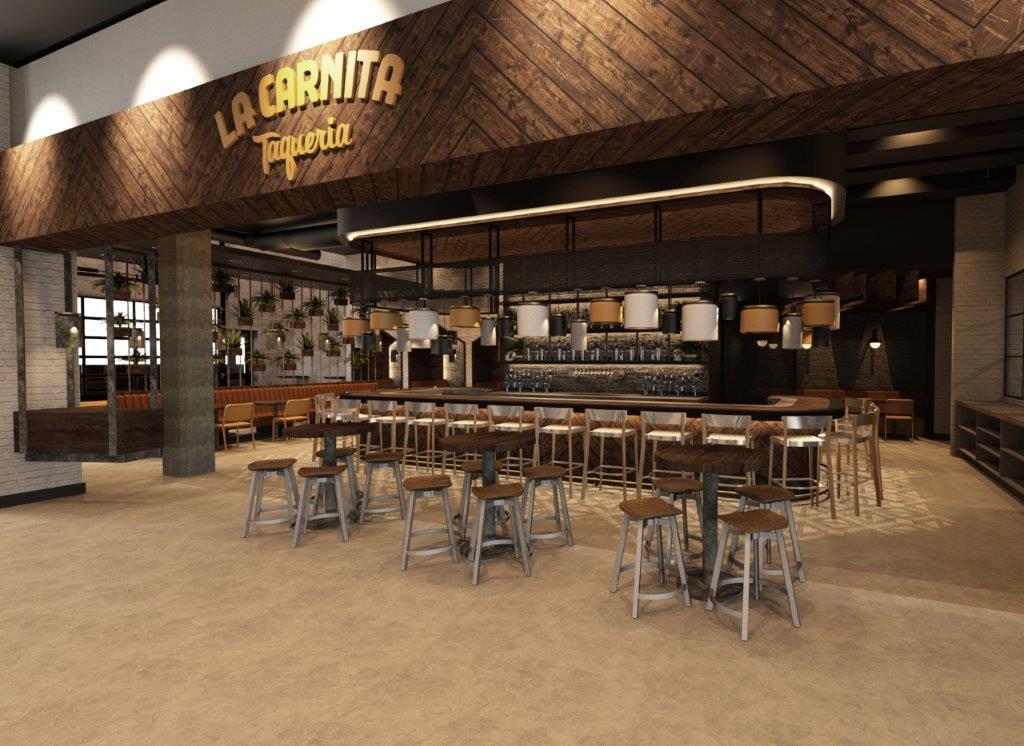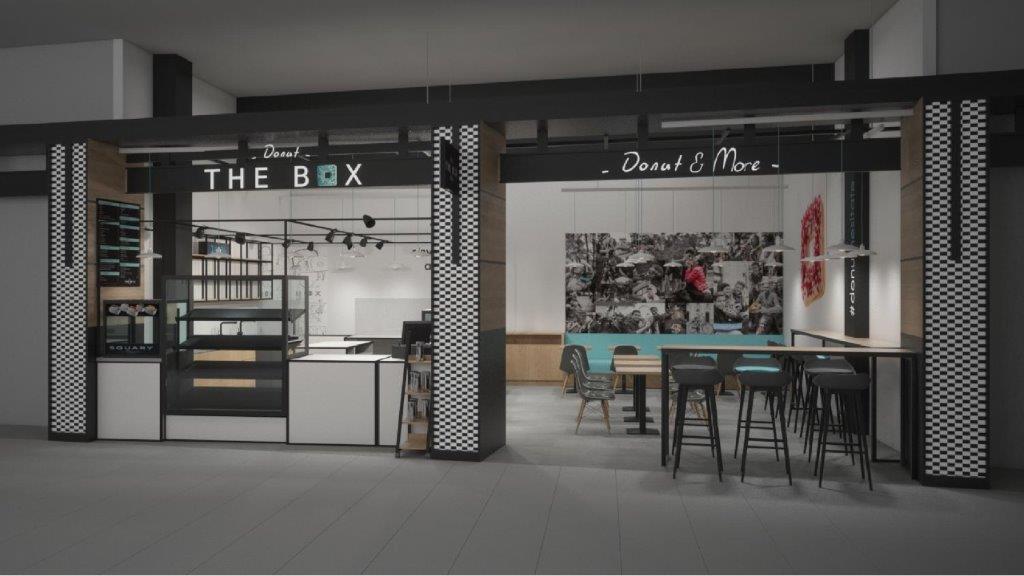 This fall in Quebec City, Oxford Properties will unveil its third food marketplace in a suburban shopping centre at Galeries de la Capitale — this week we also reported on the mall's recently completed amusement centre called Méga Parc. The food centre will showcase local food vendors and their products with a variety of artisans and merchants offering specialties including meats, fish, seafood, cheese, spices, oils, olives, bread, pastries, juices, coffee, and various other fine products. The goal will be to offer quality and freshness at one location, according to Oxford Properties.
Part of the food marketplace redevelopment includes Quebec City's first location for RICARDO Boutique + Café, a concept by the celebrity chef Ricardo Larrivee that kicked off a multi-location expansion last year. RICARDO opened in November of 2018 in an 8,870 square foot space and is currently accessible from an external entrance.
Full-sized restaurants are also being added to major shopping centres across Canada as landlords aim to increase footfall and give shoppers a place to take a break. Restaurants are becoming draws unto themselves, and centres such as Toronto's Yorkdale Shopping Centre have added best-in-class chains such as Canada's first location for the Cheesecake Factory, which continues to see lineups. This week, as well, Vancouver-based Miku debuted its TORA sushi restaurant concept at Yorkdale, which offers a premium sushi experience in a dramatically designed space.
Shopping centre landlords are investing in their centres like never before, in an effort to attract and retain consumers at a time of unprecedented competition. The newly released Retail Council of Canada 2018 Canadian Shopping Centre Study discusses some of the newest trends in detail, including the addition of innovate food and beverage offerings.
Other mall landlords are also adding food markets and food halls in their properties. QuadReal will unveil a massive food centre at its overhauled Oakridge Centre in Vancouver in a few years, and a food market will also open in downtown Vancouver at QuadReal's 'The Post'. Landlord Cadillac Fairview is also looking at putting similar food halls and markets into some of its properties, including the planned 'CF Marché des Promenades' at the CF Promenades St-Bruno in suburban Montreal. Ivanhoé Cambridge is getting innovative with food in downtown Montreal with two major food markets — one will be the Time Out Market at the newly renovated/expanded Montreal Eaton Centre, and another will be nearby at the updated Place Ville Marie, described as being a 'gourmet biergarten'.
Adding food markets to shopping centres is already proving to be successful in Canada. Lee Jackson, former Senior Manager of Restaurant and Entertainment Leasing at Oxford Properties, shared in a recent panel interview that food traffic was up substantially at Upper Canada Mall after the opening of Market & Co., and that sales were up in the mall's food court as well. Adding food centres to malls makes sense given some of the changes we're seeing in society generally — people are seeking out experiences, and social media such as Instagram have people posting photos of food. Given that most people eat more frequently than they shop for fashion, increasing in-mall food offerings can also increase frequency of visits, which could also lead to more shopping in a mall's other retail offerings.
We'll continue to follow the food market trend in Canadian shopping centres as it progresses into 2019 and beyond.
Craig Patterson, now based in Toronto, is the founder and Editor-in-Chief Retail Insider. He's also a retail and real estate consultant, retail tour guide and public speaker.
Follow him on Twitter @RetailInsider_, LinkedIn at Craig Patterson, or email him at: craig@retail-insider.com.