By Lee Rivett and Craig Patterson
While retail is becoming homogenized globally, there are still plenty of regional differences pointing to the fact that physical retail is in many ways a localized phenomenon.
Retail Insider's Lee Rivett visited Johannesburg, South Africa, in January 2020 touring two of the country's leading shopping centres. Both are impressive and one skews heavily towards housing luxury brand stores, despite recent economic and social challenges in the country (pre COVID-19).
While luxury stores have typically located on streets in Canadian cities such as Bloor Street West and Yorkville Avenue in Toronto and in the Alberni Street 'Luxury Zone' in Vancouver, much of the high-end retail in Johannesburg is located in one major shopping centre. And another major shopping centre is home to major 'mainstream' brands that can be found in cities globally.
In Johannesburg, despite the exceptional weather, much of the 'better' shopping options are found in fortified shopping centre properties. That's due to perceived safety issues that include elevated levels of crime stemming from social issues that some say stem from a history of segregation. As a result, upscale and major-brand shopping in South Africa's largest city can be found in shopping centre properties that offer a high-security environment that consumers deem 'safe'.
The same phenomenon is beginning to take hold in Canada, however, as shopping centre landlords create exceptional properties that are attracting consumers that may have shopped downtown otherwise. Retail Insider will explore this topic further in a feature article on the shopping centre's impact on downtown cores across Canada.
The following is an overview that includes background information on South Africa along with a comparison of Canada, followed by a discussion of the top two shopping centre properties in Johannesburg. Photos were taken by Mr. Rivett during his two-week visit to South Africa in January 2020.
Introduction to South Africa
South Africa is officially known as the "Republic of South Africa" and is located on the southern point of the African continent. Last year, its population was 58,775,022 according to the Department of Statistics South Africa. The largest city in the country is Johannesburg, which is also known as the "Cradle of Humankind" — its history is said to go back 3.5 million years after the discovery of hominin fossils in the area.
Canada Versus South Africa
Economy:

Canada: As a high-tech industrial society in the trillion-dollar class, Canada resembles the US in its market-oriented economic system, pattern of production, and affluent living standards.
South Africa: A middle-income, emerging market with an abundant supply of natural resources; well-developed financial, legal, communications, energy, and transport sectors and a stock exchange that is the 15th largest in the world.
Canada Stats
Population: 37,108,000
GDP: US $1,726,601 million
GDP per capita: US $47,000
Customer spending growth: 2.17%
Customer spending per Capita: US $27,000
Retail price Inflation: 1.33%
Unemployment rate: 5.9% -2018 figures from CBRE
South Africa Stats
Population: 57,726,000
GDP: US $375,751 million
GDP per capita: US $7,000
Customer spending growth: 1.62%
Customer spending per Capita: US $4,000
Retail price Inflation: 4.62%
Unemployment rate: 27.2% -2018 figures from CBRE
The City of Johannesburg is located within the Gauteng province. South Africa is similar to Canada with the country being divided into provinces. Although Gauteng occupies only 1.5% of the country's land area, it is the financial hub of South Africa and real annual economic growth rates for 2016 indicate a growth of 1.4% for the province — that's according to CBRE.
Gauteng is also the country's retail hub with over 10.8 million square metres of retail space. That's substantially more than the Western Cape province (3.5 million square metres), KwaZulu-Natal province (3.3 million square metres) and the Free State province (870,000 square metres), combined.
The largest shopping area in Johannesburg is the Sandton Retail Node (spanning 170,939 square metres), which consists of a combination of Sandton City (141,390 square metres), Nelson Mandela Square (16,265 square metres), Legacy Corner (7,000 square metres) and Michelangelo Towers Mall (6,284 square metres).
Pretoria, a city approximately 55 km north of Johannesburg, is home to the recently renovated Menlyn Park Shopping Centre (spanning 177,000 square metres) and others.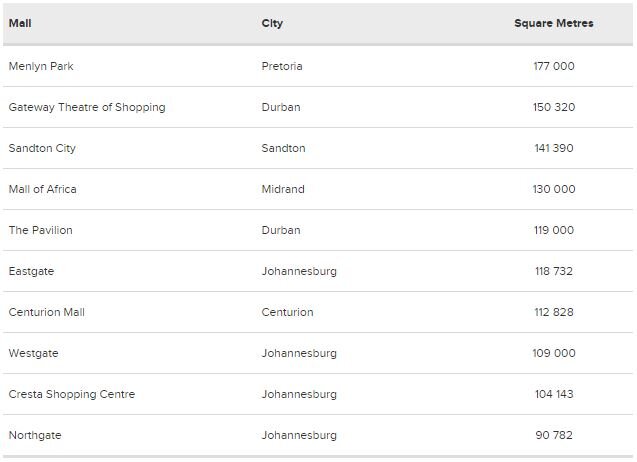 Sandton City is a shopping mall situated in the Sandton area of Johannesburg. The centre opened on September 12, 1973. The centre includes an adjacent hotel and office space. Sandton City is near Nelson Mandela Square and Michelangelo Towers Mall (spanning 6,284 square metres).
Sandton City's interior is impressive, featuring an upscale design and retail offering surpassing that of most of Canada's leading shopping centres. Its main retailers/anchors are Woolworths, Edgars, Zara, H&M and Cotton On and its consumer profile is middle-upper income customers.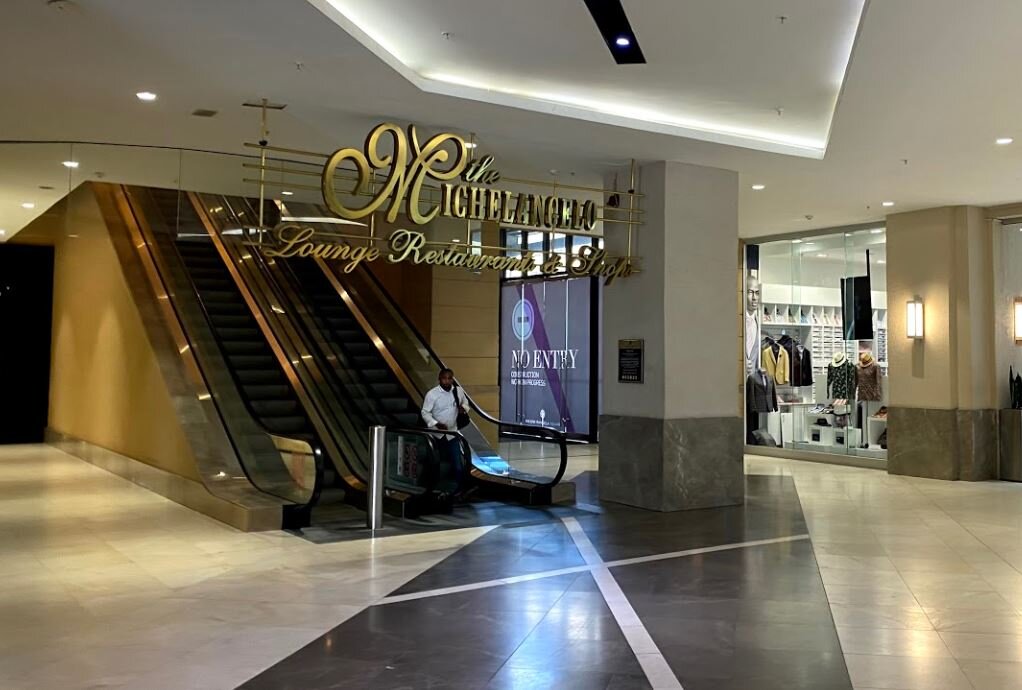 The six meter high statue of Nelson Mandela in the photo above was unveiled in 2004 as the square was renamed from Sandton Square to Nelson Mandela Square. For a little more history on the centre, Sandton City opened in 1973 and initially spanned 538,195 square feet.
The story of Sandton City stretches back to rural beginnings as the land was bought for R4 million over a period of two years from June 1967 to April 1969 at an average of R40 million per acre. Developers Natie Maister and David Rapp later incorporated it into Liberty Properties.
The centre has undergone two major expansions (in 2011 and 2015) bringing the total size to over 1.5 million square feet. Sandton City claims to hold the reputation of being "Africa's most iconic shopping centre'. Sandton City is currently managed by JHI Retail and owned by Liberty Group Limited, Liberty Two Degrees Limited and Pareto Limited.
Similar to leading Canadian shopping centres, Sandton City has several tiers of retailers as well as services. That includes an impressive roster of luxury retailers. The chandelier draped Diamond Walk (photo tour below) luxury hall included numerous standalone luxury staples like Louis Vuitton, Cartier, Dior, Burberry, and Prada and has since expanded to almost every retail segment. The range includes timepieces retailers such as Breitling, Panerai, TAG Heuer and Patek Philippe, to fashion retailers such as Hugo Boss, Burberry, Jimmy Choo, Giorgio Armani, Off-White, and Zegna. Some other well-known yet elusive luxury brands were resident including Ferrari, Emporio Armani, Dolce & Gabbana, Longchamp, Montblanc, Pau & Shark, Ferragamo, Tod's, Versace, and others.
The roster of brands give Canada's most productive mall, Yorkdale Shopping Centre in Toronto, a run for its money. One thing to note is that Sandton City lacks large-format multi-brand luxury stores such as Holt Renfrew, hence the direct-to-consumer trend is alive and well amongst high-end retailers in South Africa.
Amongst the other wings of Sandton city include a variety of value and mid-range retailers as well including Superdry South Africa (clothing), Lacoste, Superga Footwear, Sketchers, Foschini, Old Khaki, True Religion Jeans, and Mr. Price Sport.
The centre is also home to a range of mid-priced and aspirational retailers. Some names will be unfamiliar to most Canadians. Some of the more recognizable names include: Aldo, Adidas, Armani Exchange, Calvin Klein Jeans, Coach, Cole Haan, Krispy Kreme, Daniel Wellington, J. Crew, Juicy Couture, H&M, Hamley's, G-Star, Guess, Fossil, L'Occitane, Lego, Levi's, Lush, MAC, McDonald's, Mango, Michael Kors, Nike, NYX, Pandora, Samsung, Scotch & Soda, Ted Baker, Body Shop, Under Armour, Timberland, Tommy Hilfiger, and Zara.
Sandton City fills out its repertoire with specialty retailers including Hamleys Toy Shop which had a slide from the second floor for children to spiral into the main floor retail area. Other children retailers at the centre included Cotton On Kids, Earthchild, Guess Kids, Keedo, Naartjie, Okaïdi and X-Kids.
Sandton City provides additional offerings beyond retail. IQOS, a smoking cessation concept from Rothmans, Benson, and Hedges Inc, was noted as being operational which Retail Insider reported their Candian launch nationwide in 2018 and naming challenges for the company after Health Canada banned their storefront signage.
The national South African based cinema company operates out of Sandton City and has its headquarters in the neighbourhood as well. The chain owns 60-65% of the national market with 55 movie complexes and operates at the Sandton City shopping centre as well. In contrast, Canada's Cineplex has 165 theatres in Canada which has diversified its portfolio in recent years to include concepts such as The Rec Room, Playdium and Topgolf.
The Sandton City node is a multiple award-winning shopping centre and home to over 300 of the world's most in-demand brands. From an eco-fashionable Food District, a family-focussed Fun District, to a chandelier draped Diamond Walk which is home to many global luxury brands.
Retail Insider's visit to the shopping centre was memorable for the volume of patrons browsing the stores, whether it be locals and tourists alike. Watch for our second part of our South Africa retail tour where Retail Insider visits Menlyn Park Shopping Centre and we take a look at the national retail chains at a high level.
Note about COVID-19: The Republic of South Africa instituted a national lockdown for 21 days (between March 27, 2020 and April 16, 2020) to fight the spread of the coronavirus. While Retail Insider was onsite in January 2020, the retail centres (including Sandton City mentioned in this article) are participating in the national shutdown and are only offering essential services such as supermarkets, pharmacies and other essential items.