Two of America's top 10 most productive retailers are Canadian. Tracking annual sales per square foot, market research company eMarketer evaluated over 225 retailers. The top one is no surprise: Apple Stores boast yearly sales exceeding $4,500 per square foot. Of the two Canadian-based retailers, one also made it into America's top 15 fastest growing store footprints.
Vancouver-based yoga wear retailer Lululemon ranked fifth for America's most productive retail space, with sales averaging US$1,841 per square foot. Lululemon's productivity is exceeded by Apple, Murphy, Tiffany & Co., and Michael Kors stores. Lululemon has about 175 American retail locations, 38 showrooms, 8 outlets and 9 pop-up locations. In Canada, Lululemon has 46 stores, 1 showroom, 2 outlets, and 5 pop-up locations. Although there are more American Lululemon stores than Canadian, its top-selling location is at West Edmonton Mall.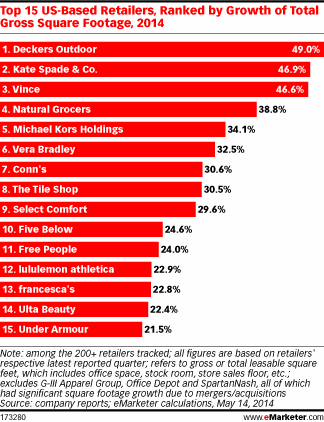 Montreal-based jeweller Birks Group (formerly Birks & Mayors) came in 9th place with annual American sales of $1,224 per square foot. In the United States, Birks Group retails under the name Mayors, with 16 Florida stores, 3 in Georgia, and one Rolex watch boutique in Orlando. In Canada, the company operates 28 Maison Birks stores, 2 Brinkhaus boutiques (in Vancouver and Calgary) and 1 wedding-focussed concession at Toronto's flagship Hudson's Bay.
Lululemon also ranked 12th in the study's list of expanding retailers, with an American square footage increase of 22.9% over the previous year.