By Retail Insider
Les Galeries de la Capitale Opens Highly-Anticipated Food Hall: After months of construction, the new food hall at Galeries de la Capitale in Quebec City opened to the public. The 'Galeries Gourmandes' is said to offer an educational, trendy, healthy, and gourmet food experience, bringing together more than 20 artisan and local merchants. The food hall has two restaurants – RICARDO Boutique + Café, which is already open, and the second restaurant by Restos Plaisirs will open in December.
"The food market will be a great addition to bring people to enjoy the shopping centre but then get something fresh to go home. We will have a fish monger, sausage, cheese, bread, cookie dough, donuts, flowers, and many other uses," said Marie-Christine Paré who is Senior Property Manager at Oxford Properties.
Some of the merchants you can find in the food hall include Laiterie Cherlevoix, A chacun son pain, Cookie Bluff, and Kanel, to name a few. Landlord Oxford Properties has been enhancing the experiential elements at the 1.5 million-square-foot shopping — Les Galeries de la Capitale already housed a fully redesigned Mega Parc (which opened earlier this year) that encompasses 18 rides, including 14 new additions and North America's first spokeless Ferris Wheel.
Oxford Properties also operates food halls in the GTA including at Upper Canada Mall in Newmarket as well as Square One in Mississauga. On Thursday of this week, Time Out Market opens at Montreal Eaton Centre and on Wednesday evening, Eataly opens at Manulife Centre in Toronto — though technically Eataly isn't a food hall, according to the retailer.
Ron White Shoes Front-and-Centre at Nordstrom's Manhattan Flagship: Iconic Canadian footwear brand Ron White launched alongside some of the world's biggest footwear brands at Nordstrom's new Manhattan flagship last month, and sales are already said to be strong. What's remarkable is the vast presence the Ron White brand has on the women's shoe floor, given Nordstrom's international offerings that include big names such as Christian Louboutin and Valentino.
Toronto-based Ron White, who has been dubbed 'The ShoeRu', operates four standalone stores in Toronto and one in Oakville. Ron White also wholesales in upscale multi-brand retailers in Canada and the US, and is also a key brand on 'The Shopping Channel'. The charismatic Mr. White has become something of a celebrity and is known for his various media appearances.
Ron White might be best known for creating the world's first All Day Heels®, which are a proven hit amongst those seeking comfortable footwear that is also stylish. This week the company is celebrating its 25th anniversary amid a global wholesale expansion. The brand has a remarkable celebrity following with many singing the praises of White's comfortable footwear styles.
North American Fur Auctions Obtains Creditor Protection: An international fur auction house with a history dating back to 1670 and the founding of the Hudson's Bay company filed for CCAA last month. It could mark the end of a 350-year run for Toronto-based North American Fur Auctions, which is the world's oldest fur company that sells more than $200-million (US) worth of fur products annually at its auctions. The company's business model also involves lending funds to farmers/ranchers to fund the growing of minks — farmers are then contractually bound to deliver those minks to North American Fur Auctions for auction. Fur farmers have described the situation as "catastrophic" for the Canadian fur industry.
Losing lender CIBC was a blow for North American Fur Auctions, which filed for creditor protection as a result. CIBC would lend North American Fur Auctions between $40 and $60 million annually to bridge the gap between lending and harvest, and the financial institution pulled the plug in September. As it faced a liquidity crisis, the company negotiated a letter of intent with SAGA Furs, which is one of its principal competitors, to assist with dealing with loans. The proceeds from this transaction, along with DIP funding in the CCAA proceedings, will allow North American Fur Auctions to harvest its current mink crop as it considers its future.
While many have decreed fur to be unethical, it remains a staple in Canadian fashion design. Anti-fur protesters have spoken against brands such as Canada Goose which uses fur collars, and upstart outerwear brands such as Wuxly Movement have created winter styles without the use of animal products. Still, some retailers are embracing the fur trend — the Hudson's Bay's store at Toronto's Yorkdale Shopping Centre, for example, recently debuted a new fur department. With states such as California banning fur sales outright, the future of fur in Canada could be uncertain in years to come amid a societal shift.
If North American Fur Auctions shutters, North Bay Ontario-based Fur Harvesters Auction will have a virtual monopoly on wild fur sales in Canada. [Source for this Brief: Insolvency Insider]
Holt Renfrew Vancouver Updates: Holt Renfrew Beefing Up Footwear in Vancouver: Holt Renfrew's Vancouver store is expanding its footwear selection for both men and women. A new men's footwear department is under construction on the lower-level men's floor, replacing an already large footwear department that debuted as part of Holts' CF Pacific Centre expansion in the fall of 2016. The current men's footwear department features some of the world's biggest brands including a Christian Louboutin concession. The new footwear department will lack the vast windows found in the current department.
On Holts' third floor, a Canadian first includes a Chanel women's shoe boutique which is part of the impressive women's footwear hall that was unveiled as part of Holt's expansion in February of 2017. It also features a Christian Louboutin concession for women along with branded walls housing big names such as Prada, Gucci, Celine, Miu Miu, and others. The women's footwear hall was said to sell more than $35-million annually a couple of years ago.
A women's Louis Vuitton ready-to-wear boutique is another addition to the women's designer floor, which offers the most comprehensive designer brand roster of any store in Canada.
Italian luxury brand Valentino also opened a first for Holt Renfrew — a combined ready-to-wear and accessory boutique in the luxury hall on the ground floor of Holts' Vancouver store. Nordstrom, also at CF Pacific Centre, features separate Valentino accessory and women's ready-to-wear hard shops. The only standalone Valentino store in Canada to date is at Toronto's Yorkdale Shopping Centre, and a Bloor-Yorkville flagship is said to be in the works.
French luxury brand Celine has also opened a concession at Holt Renfrew's Vancouver store as part of Celine's global expansion. The boutique is located on the lower-level men's floor alongside some of the world's biggest names. An expansion of the men's Louis Vuitton shop is also a new addition to the men's floor. Celine will continue its menswear expansion at Holt Renfrew Ogilvy in Montreal and in 2020, a standalone Celine flagship in Toronto will carry collections for both men and women.
Holt Renfrew Gets into the Cannabis Game with Tokyo Smoke Partnership: Holt Renfrew partnered with Toronto-based cannabis brand Tokyo Smoke for a first of its kind collaboration that introduces fashion to flower. The creative partnership includes a collection of cannabis accessories wrapped in Holt Renfrew's Toile print and holiday pop-up accessory shops at Holt Renfrew's locations in Vancouver and at Toronto's Yorkdale Shopping Centre. Both locations will welcome consumers who are 19 years of age or older until December 31, 2019.
Products include the Catch All Tray and the Storage Jar, both featuring Holt Renfrew's Holiday Toile print. The special edition products are accompanied by a curated selection of Tokyo Smoke's best-selling design and fashion forward accessories.
Tokyo Smoke has been working to change the perception of cannabis use through thoughtfully designed products, education-led events, and immersive retail experiences. This collaboration is another steppingstone in shifting the narrative. Currently, Tokyo Smoke has seven retail stores and three coffee shops.
Other upscale multi-brand retailers are also partnering in the cannabis realm. Neiman Marcus launched high-end beauty cannabis-infused products earlier this year, and Barneys New York even opened a cannabis accessories shop at its Beverly Hills store, which will likely shutter after a bankruptcy and acquisition by ABG.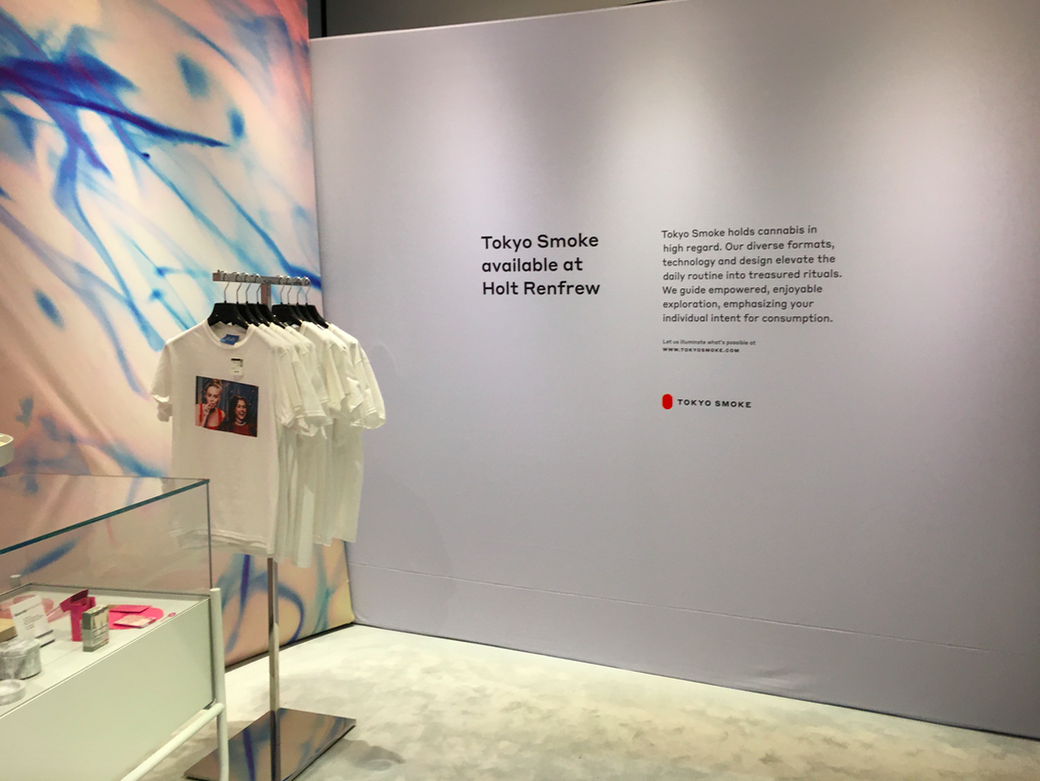 (See the above slideshow for the Yorkdale Tokyo Smoke boutique in the men's department at Holt Renfrew)
Baked Goods Company Goes into Receivership: Mississauga-based Le Bon Croissant was placed into receivership last month on application by CIBC, which is owed about $2.5 million by the company. Le Bon Croissant produces croissants, breads, and frozen baked goods such as garlic bread for large private label brands such as Weston Group and Sobeys.
Dokse Perklin founded the company in 1984 and is President and CEO. According to Insolvency Insider, Mr. Perklin told CIBC that he would be leaving on October 19 for a 2.5 week cruise in the Mediterranean and was prepared to "hand over the keys" to CIBC, if CIBC so desired. As a result, BDO was appointed as receiver, and it's unclear what the future holds for Le Bon Croissant's operations — major grocery chains could be on the hook to find a new bakery partner for some private-label goods.
Nordstrom Opens 1st Max Mara Boutique in Canadian Store: Seattle-based Nordstrom recently opened a Max Mara hard shop on the third floor of Nordstrom's CF Toronto Eaton Centre store. Max Mara replaced a women's Loewe hard shop that shuttered last month.
The Max Mara boutique carries women's ready-to-wear as well as a selection of accessories and scarves, showcasing the brand's latest store design.
Max Mara has four standalone stores in Canada, three of which are in Vancouver (operated by Vestis Fashion Group) and one in Toronto — a Yorkdale location could be on the way as well, though it's not confirmed as building applications are from several months ago.
Nordstrom's CF Toronto Eaton Centre store also features third-floor ready-to-wear hard shops for designers Moncler, Stella McCartney, and Burberry. A Lanvin boutique closed last year, and several months ago the edgy 'SPACE' department also exited the store. On the second level men's floor, most of the designer offerings have been relocated to Nordstrom's Yorkdale store, though a new SuitSupply concession is a recent addition (to be reported soon in Retail Insider).
Nobis Opens 'Laundromat' Pop-Up in Toronto: Last week, Toronto-based outwear brand Nobis unveiled the Nobis Laundromat Pop-up at 277 Queen St. W. in downtown Toronto. Designed to encourage Torontonians to "launder" for good this holiday season, the pop-up showcased the brand's unique machine washable feature, offering complimentary express jacket refreshes while also functioning as a coat drive.
All gently worn jackets collected benefitted New Circles GLOW (Gently Loved Outfits to Wear), helping newcomers, refugees, and economically vulnerable families in Toronto meet their basic clothing needs. For every jacket donated, Nobis matched the contribution with a $100 donation, equal to one year's worth of clothing for two people in need.
Founded in 2007, Nobis is a globally-renowned Canadian premium outerwear and accessory brand that embraces the conviction that trends may come and go but style, function, and quality will remain forever timeless.
Craft Canada Launches website: Craft Sportswear Canada announced the official launch of its new e-commerce website. Designed in partnership with renown Canadian marketing and creative agency Origin Design + Communications, the new website brings alive the brands Swedish heritage with a local Canadian appeal through its layout, storytelling, and interactive online shopping. With a heritage of over 30 years, the Swedish Company specializes in elite and everyday sports apparel from base layers, xc skiing, running, training, biking, and accessories. The site includes rich media produced by Craft Sportswear, as well as local photography that relates to the Canadian consumer.
Craft Canada's leadership team is excited to tell the story of the Swedish performance brand and its award winning products and technologies to all Canadians. The responsive layout is designed to make it as effortless as possible to find a wide range of products by sport, collection, and gender, as well as explore the brand and their roots. Craft Canada is offering free shipping on orders over $100. The new website can be visited at www.craftsports.ca.
District Ventures Assumes Ownership of Food Starter: On November 4, 2019, District Ventures, Canada's leading ecosystem bringing capital, marketing, programming, and commercialization to companies in the food, beverage, and health CPG industries, announced they have assumed the ownership and operation of Food Starter, Toronto's leading food startup incubator and accelerator.
Renamed "District Ventures Kitchen", it will act as another commercialization component of the District Ventures ecosystem – offering startup and early stage food companies access to a commercial kitchen and programming to help them scale.
"Since (District Ventures' 2015 startup) we have made great strides supporting over 260 companies and helping create close to 1,000 jobs," said Arlene Dickinson, CEO of District Ventures.
The facility offers 20,000 square feet of shared-use, food-safe production, complete with manufacturing equipment, including commercial bakery production spaces, hot and cold fill lines, and a full suite of packaging equipment. Both public and private sector investments assist the Kitchen in its continued efforts to further the cause. "Small businesses play a large role in the success of our city so it is crucial that we find ways to ensure that they thrive and are able to grow," said Mayor John Tory.
Endy Launches Weighted Blanket: Toronto-based mattress-in-a-box company Endy has introduced a new weighted blanket that is available for purchase online and as of last week, also in stores. Designed to complement the company's popular mattress, Endy's weighted blanket is said to offer stress relief. Weighing 15 pounds, the added pressure is said to have a calming effect (also known as Deep Pressure Therapy) and induces relaxation to help you fall asleep.
Described as "comforting as a hug", the blanket is quilted for even weight distribution and is machine washable and dryer safe. The double-sided design means it will blend in with one's bedroom or living room decor. It is available in one size and designed to be used by one sleeper at a time. A 60-night trial is available to customers who are interested in trying Endy's weighted blanket. Shipping to every Canadian province is free. To learn more visit endy.com
Digitally-native Endy opened its first retail space several months ago at the Stackt Market in Toronto, which will remain there for several months.